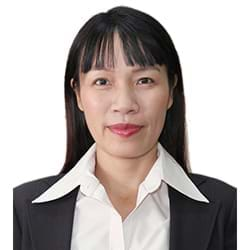 VU T. HAI VAN
Partner
Head of Trademarks Department
Vu T. Hai Van is partner of Invenco, leader of the Trademarks team. She is a Registered Trademark Attorney with more than 20 years' experience working with Brand and Intellectual Property owners across a range of industries.
Van specializes in trade mark law, she represents a wide variety of major global brand owners in all aspects of contentious and non-contentious trade mark matters in Vietnam and other countries.
With a focus on trademarks, Van counsels clients regarding strategic and tactical advice (e.g. searches, applications, IP enhancement strategies and IP enforcement strategies) related to trademarks and designs.
In addition, Van represents clients on the intellectual property aspects of a wide range of transactions, technology transfer. She conducts due diligence, and negotiates licensing and purchase agreements as well as disclosure documents in connection with public and private financings.
Van graduated in law from the Vietnam National University. She was admitted in 1999 as a journalist of the Vietnam National University.